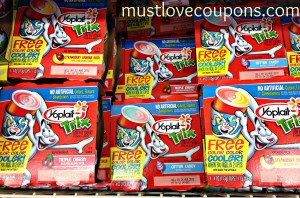 One thing I love is to provide my kids a healthy and easy snack year round, but that's not always what happens as things that are often quick and convenient are typically not the best choice!  I'm so happy to have been provided this opportunity as my opinion has recently been changed as I found that the new Yoplait Trix Yogurt fits the bill on this one!  My children have always loved the swirling flavors that are found right under the lid of each package, but with their new and improved formulas I can rest assured that they are getting that same great taste and it's even better for them.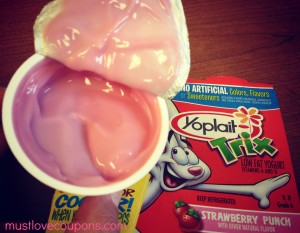 What's different?  Looks the same to me…
With all the talk of "getting kids to eat better" and providing a "healthier alternative" to the high in sugar and junk snacks that are offered, Yoplait and Trix have put together a more sensible solution.  There is no longer high fructose corn syrup, artificial flavors, or sweeteners.   This is awesome as I can feel comfortable letting my kids have a sweet snack or lunch pairing that isn't high in sugar and nasty little additives.
Notice that package?  It's clearly written that there are no artificial colors, flavors or sweeteners in this yogurt!
Each little container (4oz.) is only 100 calories and that makes for a great snack for Mom too!
Although my daughter and son would love to eat sugary sticks of candy for breakfast and lunch AND snack time… I think this is a much more reasonable choice!  While not losing out on the taste of the sugary-sweetness due to the fact that it's healthier my kids still loved the flavors we picked up!  There are 5 yummy flavors to pick from:
It's affordable too…
Did you know that General Mills offers coupons for their products?  I love saving money and assume that you do as well since you're here!
  You can often find coupon inserts for Yoplait brand products and the Trix blend is one of them! 
This yogurt is sold in the 4 pack containers and ranges in the price range of $2.00 – 2.50 per 4 pack regionally.  You can pair this with a great sale and grab it between the price of $1.75 – $2.00.  Add on a coupon and get a GREAT deal!  These will typically cost you about $.50 per cup after deals and coupons!  This is a GREAT price for a healthy snack and fits right in to my budget!
Recently I've seen coupons ranging from $.50/2 to $1/2 for these 4-packs!  So just watch here or your local newspaper for the upcoming coupons that are available!
You can see all Yoplait coupons that are available here.
They are also sold in the Warehouse Club packs which I do not have the pricing for.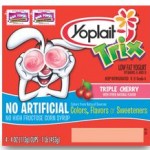 "Trix are for kids" but unwanted additives definitely are not. That's why Yoplait® Trix® Yogurt comes in silly,  swirly flavors kids love, without high fructose corn syrup, artificial flavors, or sweeteners. It's still the same  bright, fun, colorful snack, only better. You'll love that they love it!
Disclosure: Compensation was provided by General Mills via Glam Media. The opinions expressed herein are those of the author and are not indicative of the opinions or positions of General Mills.  {click to see my full disclosure }