Don't spoil the news :: Catch up First! 
I've Let Myself Go.   I stopped drinking soda, and started walking.
Week 1 – Week 2 – Week 3 – Week 4 – Week 5 – Week 6 (No Post)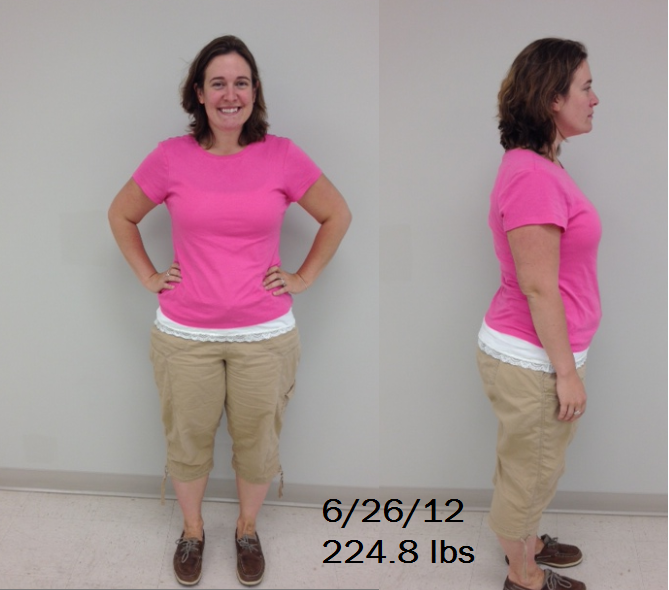 Sorry that I missed posting last week.  It was an off and on week with us posting in general with only posting one day.  And unfortunately I was not prepared and did not weigh myself on Tuesday, or take a picture… so I just skipped the update.
Although I did not post here, I continued with my Nutrisystem plan!  Everything has still been cruising right along with my progress and weight loss.  I'm to the point where most of my pants / shorts / capris are WAY to loose at the waist line, but I haven't lost enough weight to fit in my older clothes from last Summer.  (I'm beginning to wonder, WHAT did I wear last summer? Since I can't fit in any of my old clothes) 
I am refusing to buy any more new clothes.  Therefore (as seen above) my pants look terrible!  On the left picture it looks like I have an outie belly button or something, but no, that's my belt!  They are so loose across my waist that I hike them up to the middle of my stomach and then they go back to sagging.  It's a poor sight I tell ya!  But I purchased these capris and 2 pairs of shorts in March and I refuse to buy any more "big" or "in-between" sizes.  I have PLENTY of wonderful clothes that fit.  The problem is, they are size 14-16 and I'm not there yet I'm wearing mostly 18-20 pants.
So since I can't fit in most of my summer clothes (skirts, capris, shorts) – I have a NEW goal. Work it off until I can!  I'd like to be able to fit in my size 16 (at least) by August 1.  What this means is that I need to kick it up a notch with working out.  My plan is to do two weightlifting classes a week at the gym and at least one more cardio class a week.  This of course, is in addition to the walking that I am doing.  I am headed to LA and NYC in the coming weeks, and I NEED clothes to wear!  I'm going to make sure that I can fit in them by that time (or squeeze!) so I don't have to wear saggy pants or old jeans!
Make sure you come back and follow my progress next week!  (It'll be Tuesday-Wednesday) as this post is SUPER DUPER late!
Here's the latest on the weight loss:
Started Nutrisystem:  05/07/12
Weighed: 241.8 lbs.
End of Week 1:  05/14/12
Weighed: 235.9 lbs
End of Week 2:  05/21/12
Weighed: 234.1 lbs.
End of Week 3:  05/28/12
Weighed: 232.1 lbs.
End of Week 4:  06/04/12
Weighed: 230.0 lbs.
End of Week 5:  06/11/12
Weighed: 226.2 lbs.
End of Week 5: 06/26/12
Weighed: 224.8 lbs.
Total Weight Lost: 17 lbs
 Don't forget that right now Nutrisystem is have their 40% off sale where you can get a great deal and get meals as low as almost $2 a day!
Want to lose weight and get healthy on Nutrisystem? Join today by calling 1-888-853-4689 or by visiting http://www.nutrisystem.com/nsblog
Disclosure::  I will be receiving complimentary products and services to facilitate this review showcasing my progress from Nutrisystem as part of their Nutrisystem Nation Blogging Program. This is 100% my own honest opinion. No one has influenced me otherwise and this review is solely based on my own experience with this product.
I would love it if you left a comment to show me some love!