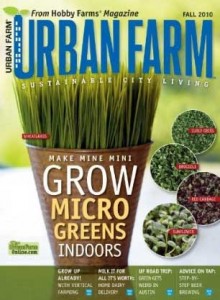 Today only, subscribe to Urban Farm Magazine for only $4.50 per year (70% off)! You can order up to 1 years at this price! Just enter coupon code MUSTLOVE to grab this deal before it's gone! This offer expires at Saturday 01/26/13 09:59 AM EST so don't wait around to get it.
A guide for those in cities or suburbs looking to become more self-sufficient by growing some of their own food and treading lightly on the environment in the space they have. Articles include how-to projects, gardening basics, composting, beekeeping, roof-top gardening, preserving and freezing, and time and money-saving ideas.
Head over to Discount Mags to grab this deal.
Enter coupon code: MUSTLOVE to get it for only $4.50 per year.
Don't forget that when you use code MUSTLOVE you'll be able to save 20% off most magazines, everyday!