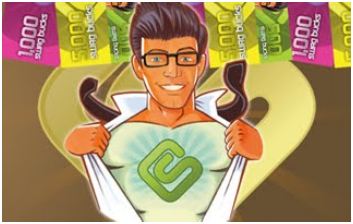 Here we are again! Earning some FREE Swagbucks through the search engine at Swagbucks.com because it's MEGA Swagbucks Friday and your chances of earning are EVEN higher today with triple the rewards! Swagbucks is SO simple to use and so easy to redeem free gift cards and (EVEN) cash through Paypal! Are you not involved yet? Join me!
How many Swagbucks have you won today on Mega Swagbucks Friday? Today makes it even easier to rake in the Swagbucks to your account by simply searching the web! You can win 30-1,000 Swagbucks in a SINGLE search on Fridays! Join others in your bragging wins as you share them on twitter @Swagbucks with the tag #MSBD.
If you're not already a member of Swagbucks you should really consider joining! In 2011 alone I was able to earn a significant amount of Amazon Gift Cards and PayPal transfers that I used for Christmas gifts. If you join now, you can start earning right away and by Christmas, you'll have extra cash! You'll be surprised how quick it adds up!
MORE Swagbucks Daily!