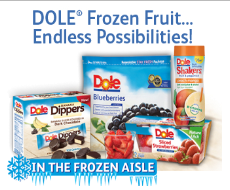 There's a NEW $5 One or Many Offer from Saving Star where you can get Save $5.00 when you spend $14.00 on any DOLE® Frozen Fruit Single-Serve Cups, Frozen Fruit, Fruit Smoothie Shakers & Banana Dippers through 04/24/13. This will be perfect for the upcoming month of March as it is FROZEN food Month and you'll see many sales at your grocery store on frozen products to pair this with!
Here's the thing: This offer is only valid for so many people, so you will want to head over and "claim the offer" before it's sold out! Claim the $5 back wyb $14 of Dole Frozen Fruit Products here!
Saving Star has newly released coupons! Every week on Thursday new coupons are released that can be added to your Store Loyalty cards at NO CHARGE, with NO CLIPPING required! E-Coupons are so simple to use! Check them out and add them to your card to start building your Saving Star account balance!
Make sure you register your card on the site FIRST so you can add these coupons! Some coupons tend to "sell out" quickly meaning that the allocation of the coupons have already been claimed. If there are coupons that you are interested in I would suggest adding them to your account right away!
Check them out and pair them with a nice sale at the store to earn additional money back in your Saving Star account, no clipping required! Make sure you're also adding these to pair with the Coupon Matchups we do weekly to save more at the store!
See ALL available coupons here
Saving Star automatically deposits your "savings" into you Saving Star account which can be used to load directly on your shopping loyalty card! Here's just a few of the cards that can be added CVS, Rite Aid, Martins, Food Lion, Wegmans, Albertson's, Bloom and a lot more. Check out the whole list of stores included.
For every purchase you make where a Saving Star coupon has been loaded to your card, you'll get the savings in your Saving Star account (not on the day of purchase; this will not be listed on your receipt!). When your account reaches $5 you can "cash-out" for a Bank Account Deposit, Paypal Transfer, Amazon Gift Card and more!
This is one of the easiest ways to save at the store without clipping coupons! Electronic Coupons are the way to go!

You can save on your purchases by using the Saving Star coupons and then you'll get that amount added to your account. All it takes is an easy $5 accumulated to cash out! So in addition to using the manufacturer coupons and saving right away – you're able to put some money back in your Saving Star Account and get rewards later! Double Bonus!

Getting Started:
Create an account with SavingStar.com (you can even log in through Facebook!)
Look for the Local Participating Store in your area.
Add Your Store Loyalty Cards (by using card number)

Clip / Click / Activate individual coupons and they are added to your account.
Once you purchase those items at the store you'll see the Saving Star Amount added to your account within 7-30 days. Then you can cash them out for the rewards like Paypal (cash), Amazon Gift Cards & More! Let the E-Savings begin!