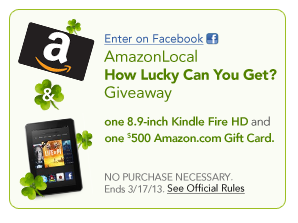 AmazonLocal is giving away 6 Kindle Fire HDs and 1 $500 Amazon.com Gift Card for their St. Patty's Day Giveaway!  You'll want to make sure you're entered to win!
Head over here and Register for AmazonLocal.
Look for the above image on their site where you can enter to win one of these awesome prizes!

The giveaway is on Facebook, so you'll need a Facebook account to enter.

Offer ends 03/17/13 so make sure you're registered before that to win!