Amazon seller RunSkipShop is currently hosting a hidden sale on Amazon. Enter code CBW50OFF to see if items you select, sold by RunSkipShop, are eligible for the deal. They don't tell you what's on sale-you simply need to add items you'd like to your cart, proceed to the first checkout page and enter CBW50OFF to see if the items qualify.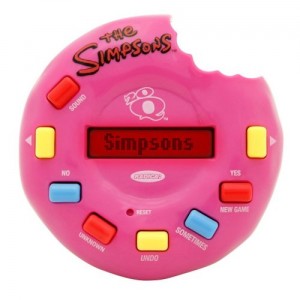 This The Simpsons edition of 20 Questions does qualify for the 50% off deal. Just select RunSkipShop as the seller, and enter Amazon coupon code CBW50OFF at checkout to get it for just $5.20. 
The Best Part of the Deal
RunSkipShop offers free shipping, which means you don't have to worry about meeting the minimum $35 order that Amazon now requires for SuperSaver Shipping. Just purchase what you want and enjoy free shipping on any order from RunSkipShop.
How to Get This Deal: Step-by-Step
 Go to Amazon and enter RunSkipShop in the search bar to see all items for sale by RunSkipShop
 For items you want, be sure to select RunSkipShop as the seller before adding them to your cart
 Proceed to checkout, and add code CBW50OFF
 Check to see which items are 50% off
 Remove items that are not on sale that you do not wish to purchase at this time
 Proceed through the checkout and place your order