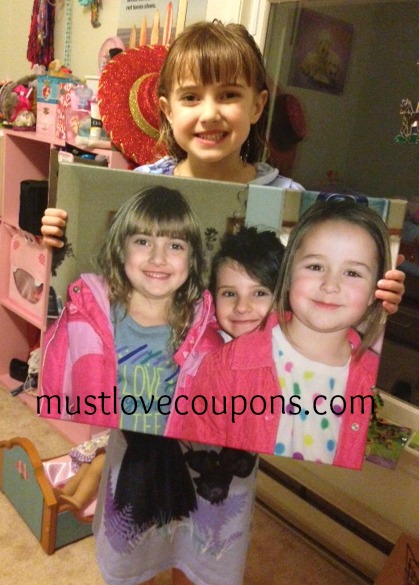 Right now Canvas People is running a sale where you can score ALL canvases at 75% off their retail price!  This makes for a great deal when you want an awesome way to display your photos!
As you can see in the picture above recently my daughter received her Canvas People order we placed.  Now she has an AWESOME and huge canvas of her and her friends!
Head over here to check out the Canvas People 75% off Sale!
Prices are great for this deal with the 8×10 being only $12.50 (plus shipping) or up to the 18×24 only $25.75!
Plus, you can get a FREE offer for Family Fun Magazine subscription. This offer is chock full of crafts, recipes, and family friendly activities. (Value $10)
If you don't want the magazine, you can always opt out by filling out the form on the site, and they will give you a $10 credit making it only $10 + shipping!
Here's the details:
Scale the image to the area you want placed onto your own unique Photo Canvas.
Pay shipping and handling on your order.
Submit the Family Fun rebate (details on the site or listed below) to receive $10 back instead of taking the FREE magazine subscription!
Receive $10 rebate check and your canvas will cost you even LESS!

Bonus $10 Rebate Details from their website:
Bonus 1 Year Subscription to FamilyFun!
While supplies last, we'll include a one-year subscription to FamilyFun magazine ($10 value, 10 issues) with any purchase of a canvas print (a $49.99 value) (excludingtaxes and shipping & handling charges) starting at $14.95!
You will never receive a bill for this subscription and we will not share your credit card number with the publisher. This is a paid subscription with no hidden charges, obligations, or automatic renewals.
Current subscribers' subscriptions will be extended by one year. Please allow 6 – 8 weeks for delivery of your first issue. Your acceptance of this offer authorizes us to provide the publisher with your name and mailing address for fulfillment of the magazine. If you wish to forfeit the subscription and receive a refund for the value instead, print out the attached form and fill it in completely and mail to:
FamilyFun
PO Box 251-H
Scarsdale, NY 10583
You must include a copy of your online order confirmation showing the date of purchase and total purchase amount.
Submissions must be postmarked within 30 days of placing your order.
Incomplete and duplicate requests will not be processed.
Offer available to US residents only. Limit one subscription/customer/household/year.
Offer valid while supplies last.
First Name: _______________________________________________
Last Name: _______________________________________________
Address: _________________________________________________
City/State/Zip: ____________________________________________