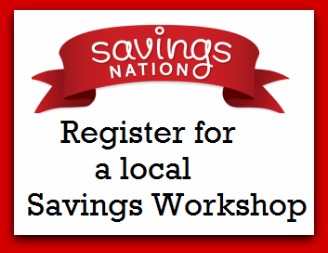 Just a reminder we have a local coupon class coming this weekend to the Winchester, VA areas!  Join us for an informative, fun 2 hour workshop that will cover the basics of starting to coupon, strategic shopping and meal planning. You'll learn how to save 50% or more on your weekly grocery bills!
The class registration cost is $10 and you will get a $10 refreshment credit at The Daily Grind at Abram's Crossing in Winchester.  Essentially making the course free for you (after food) and you'll be supporting local businesses with restaurant sales.
If you can't make it to either of the upcoming classes be sure to check the future schedule of workshops here!  We're planning 2 a month for the next 6 months!  We have more Grocery Savings, Drugstore Secrets and Holiday Savings Courses!
I'm so excited to see you there so make sure you reserve your spot soon as we'll be filling up classes quickly!