Wow!! If you're a Redbox user like I am, then you'll be excited to hear about this offer! If you haven't heard, RedBox and Verizon have teamed up and have created RedBox Instant. To celebrate, they offering a FREE 30 day trial for new subscribers! Included in this trial is 4 FREE one-day DVD rentals + unlimited access to streaming movies! You can stream movies on your computer, Xbox 360, Samsung Smart TV & Blu-ray players, Apple iPhones & iPads, and Android phones & tablets! Wow! Def something to have if you're traveling with kids in the car!
What I really like about this offer is not only do you get free rental codes, but lets say accidentally forget to return your rental (which I've done this before.) Instead of being charged a rental fee like you normally would, they will just use on of your FREE one-day DVD rental codes instead! To get started, just head on over here, fill out your information, and get started streaming your videos!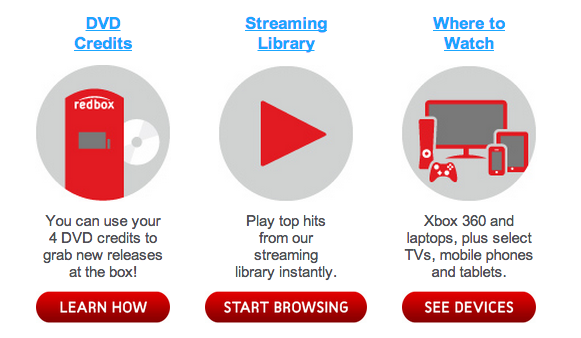 You can cancel anytime during the 1-month trial to avoid any charges.If you decide to extend your Redbox Instant membership after your 1-month trial has ended, you'll just pay $8 per month. Your monthly membership will continue to include 4 FREE Redbox DVD rentals along with the unlimited streaming. I'm actually going to sign up myself, because after all, it is FREE for 30 days!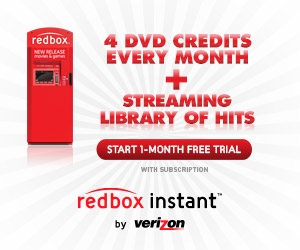 NOTE: One month free trial offer for new subscribers only. You can cancel any time during the 1-month trial to avoid charges. If you like our service and don't cancel during the trial period, your subscription will continue automatically at the then-current monthly subscription rate. Movie rentals and purchases excluded. Available in the US only. Streaming requires a 500 kbps or faster connection and is available on select devices. Additional rental nights beyond the 4 DVD credits a month will be charged at the standard daily rental at the box.