There just might be a way that you can get an awesome pair of equestrian boots for FREE!
.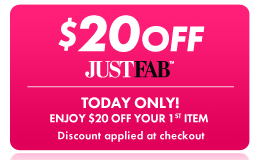 When you join Just Fab, you get  $20 off your first purchase of any pair of Boots, Shoes or a Handbag (everything is priced at $39.95).  For all you fashionistas out there, that means you'll get an awesome pair of boots, great new purse for just $19.95 + Free Shipping.  For an even better deal, keep on reading!
A deal you can refuse!
During checkout, you will even qualify for a free subscription Entertainment Weekly! 
Don't need another magazine?  Nope?  Great!  Then you can click the View Details option and a form will pop-up for you to fill out and send in.  Instead of the subscription you will get a $25 refund by mail!  *If your cart total is only $19.95, you'll just get $19.95 back
Pay $19.95 for new boots, and get a $19.95 refund! That means free shoes!
A few reminders:
You'll only have 24 hours to order before your $20 Off Code expires.  Make sure you don't forget!
You'll be asked to complete a quick style profile – so they can make recommendations for you.
JustFab offers FREE Shipping & Exchanges
Chat online or call for help anytime !
 Not a new member?  Try code IPSY20 to get $20 off your purchase.  I'm not sure if it will work – but it's worth a shot 
Thanks Time to Save Workshop