Right now, Old Navy has a Gift Sale going, which offers plenty of merchandise and great low prices. In addition, you can use coupon code ONSAVENOW to get an extra 20% off online purchases. The Old Navy coupon code expires tonight at 11:59 ET, and is not valid in-store. There are many items to choose from, starting at just $8.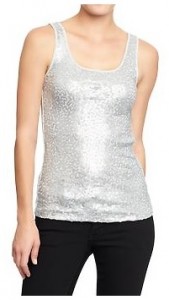 Women's Sequined Tanks are normally $19.94, and many are on sale for only $8. When you use coupon code ONSAVENOW,  they are only $6.40.
Get The Best Deal from Old Navy
To take advantage of the greatest savings, check out sale price items, including the Winter Deals and Big Deals, as well as the Gift Sale. Coupon code ONSAVENOW can be combined with sale prices. Be sure to enter ONSAVENOW at checkout for an additional 20% off!