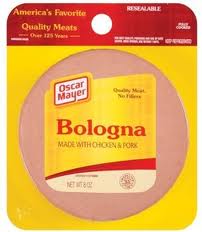 Typically I would not post about deals like this where you have to purchase a high number of items to get a good deal, but in this case it makes for a GREAT deal.  Oscar Mayer Bologna is a staple in a lot of families for a quick sandwich and typically there's plenty on the shelves (or stock to be filled) to go around.  Last night I went to Martins in Winchester and was doing some shopping and came across a really good deal that I felt I had to share.
At Martins, Oscar Mayer Bologna is on sale (through 09/15/12) for $1.25 per pack (4/$5)
If you purchase 10 packages your total purchase cost is $12.50
After you pay the $12.50 (plus tax) you will receive a $10 Catalina off your next purchase from Kraft.
This makes Bologna only $.25 EACH!
This is a GREAT deal to stock up on as they typically have a longer expiration date, can be frozen or you could even take some to those in need.  This is an excellent example of being able to score a great deal and help others.