Get Bonus Points from Disney Movie Rewards from their Member Newsletter that was sent out today. I can not tell you what amount that you will receive as July 2012 Disney Movie Rewards code this month is unique for each person and will provide a MYSTERY amount of points!  I received 8 from my newsletter.
Head over to your Disney Movie Rewards Account and then check your email for your points (see picture below):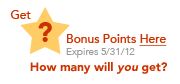 You can find your Disney Movie Reward Codes in BluRay, DVD and CD Packages from Disney.  Be sure when you go to the theater to see a new released Disney Movie, you're getting points from your tickets too!  Just enter your magical code and start saving for FREE stuff!  It costs nothing and they do not expire, so you might as well start collecting today!