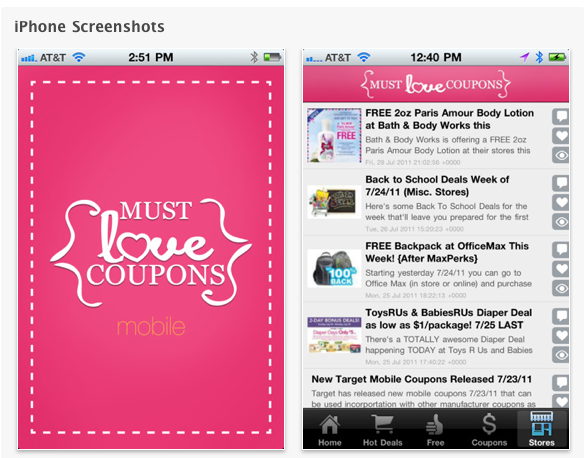 Must Love Coupons iPhone App has been RELEASED!
Get it today!  It's FREE!
I am SO excited.  Excited so much that I could even wait to get this in post format before spilling my guts on Facebook yesterday about it! (don't ever trust me with a secret at Christmas! LOL) So, it's HERE! The Must Love Coupons iPhone App has been released yesterday afternoon in the iTunes Store!  The best part about this for you, IT'S ABSOLUTELY FREE TO DOWNLOAD! I wanted this feature for the website for you all because it makes things a lot easier for me when I can do this everywhere, if there's a deal match-up or hot offer, I never want to wait until I get home to find out more about it!  So that's why I got the app created for all of you!  I wanted you to be able to take Must Love Coupons EVERYWHERE.  Don't fret Droid users; it's on it's way!  Apple was a more thorough application process so it went through that first to get approved, then we're getting it in the Droid platform (hopefully by 8/8 it'll be ready!)
This app has so many features, but I wanted to let you know an overview and then you can go get it for yourself!  First of all, it works on iPhone, iPad, and iPods when downloaded from the App Store or iTunes store. There are key categories listed (as pictured above) that you can use to find specific deals easily.  These categories are:
Home

Shows the entire feed so you can scroll through everything posted on the site.

Hot Deals

This will list everything from online deals to in-store items that are HOT and you don't want to miss!

Free

We all love free!  As the name states, this tab is for everything that you can get FREE – whether it's an online item or a coupon to use to get it for nothing out of pocket!

Coupons

The Coupons tab lists everything from new printable coupons to the Sunday Insert Coupon Preview!

Stores

This is where you will find store specific deals and the weekly match-ups.
I don't want to you miss a deal and I don't want your friends to miss one either!  As many of you know, we've been classified as "SPAM" on Facebook for quite a while now… with the App you can "SHARE" the deals again!
*on a side note, we're not sure why we've been marked as spam but it's really hurting us in the long run because I and even you can't share our posts with friends… make sure that you ALWAYS stay up to date on the deals by subscribing to our daily newsletter in case something ever happens to our Facebook connection!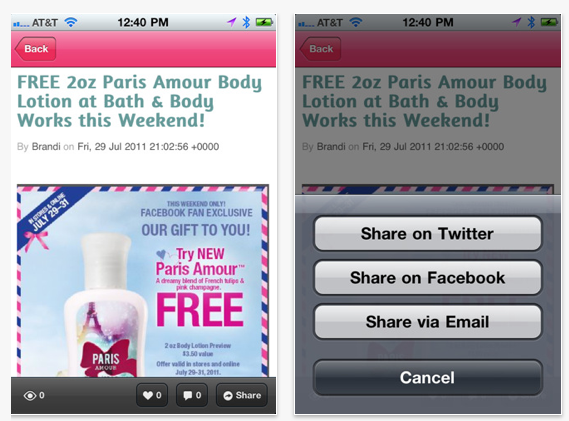 *Once you have the App downloaded on each posting (as the BB&W on the left picture shows) you'll see the small icons at the bottom.
*You can click "Share" and the options come up for easy sharing (see right picture)
*Now you can easily share these specific deals on

Facebook

and Twitter (and email) by choosing those options!

you will need to grant permission for the Must Love Coupons application to access your Twitter and FB pages but we don't store or see any of your information as this is just required so the sharing process can be used
*You can even add your own comments to the posting before you share!  YAY!

This part I'm VERY excited about as we've been without the sharing option for a long while!
I hope you enjoy this app as much as I do!  Let me know your feedback, suggestions and comments on this!  When I do things like this for you – I want to know how YOU feel!