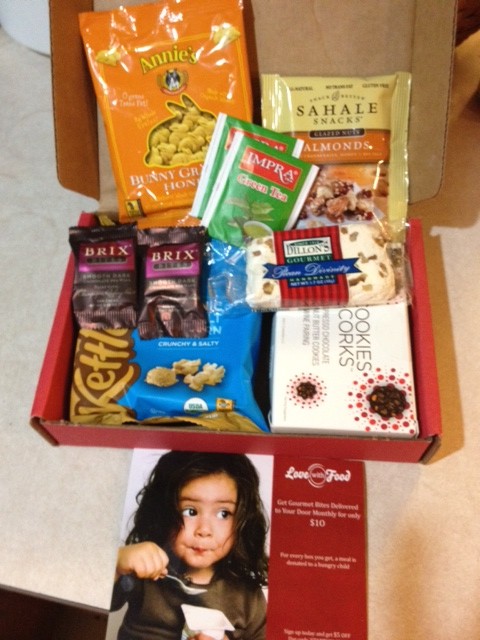 Today on Plum District you can order the Gourmet Food Box from  Love with Food which contains different samples of tasty and quality foods each month!  As you become a member of Love with Food, you'll be sent a new box every month and you will get to try difference products that you can earn exclusive discounts on right though their site!
This is a great way to try a different variety of foods each month while they are delivered right to your door!  Typically each box is $10 a month, but with this Plum District deal you can get your first shipment for only $5 (plus $2 shipping).  After the first month's shipment you can cancel anytime with no obligation for future shipments.   After your first shipment at $5, you membership rate will then be $10 per month there after.
Canceling is easy as they have laid out their cancellation policy in case you change your mind:
Monthly members can cancel their membership anytime. You monthly membership fee is auto-renewed on the 1st of every month. If you would like to cancel your subscription, please do so before 5PM PST on the last day of the month, otherwise you will continue to be billed for the next month.

You will need to first log in to Love With Food here to cancel your subscription. Click on My Home. Then under My Account tab, click on My settings. Then click on View or Cancel Subscription to view your current subscriptions. Click on 'cancel' to stop your subscription.
I was provided a box from Love with Food (see my photo above) to see what I thought about the items that are included (although they will be different from month to month).  I must say for only $5 I was impressed at all the goodies that were included!  Yum, chocolates, organic sea salt kettle corn, peanut butter cookies (that are best paired with wine!!), tea, almonds, Annie's crackers and a pecan treat!  I was pretty impressed as I normally wouldn't purchase many of these things so it was nice to be able to have my family try them first!
Another awesome thing about this company is that with every box sold they donate a meal to several food banks such as the Feeding America Network and Share Our Strength – No Kid Hungry.  So not only are you getting yummy goodies every month, but you are also helping them give back to the community in need!
Head over ot check out this Plum Steal and get a Love with Food Membership including your first box for only $7.
Disclosure:  I was provided a sample box from Love with Food so I could give my personal opinion on the product while sharing this deal with you.  The free product has in no way influenced anything that I have written about this deal, all opinions are 100% my own.