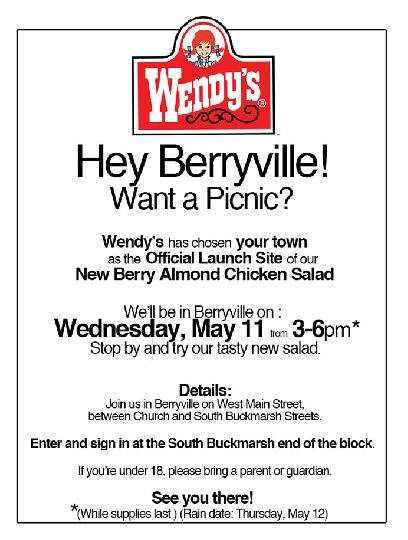 In light of the Wendy's Berry Town travels that will be happening from May-Aug this year: Berryville, VA has been selected as the Official Launch Site!
Be sure to make your way to Berryville tomorrow from 3-6 pm for your chance to try the NEW Wendy's Berry Almond Chicken Salad! (while supplies last)
Wendy's is looking for towns that have the word "BERRY" in them to help promote their summer salad and we've been selected!
I'm thinking there's some filming that's going to be taking place since there is a request for parent / guardians if you're under 18!  So who knows, this may be a chance for you to get on TV in a commercial or on their website promoting their new salad?!  **these are just my own speculations, and not that of Wendy's release!
Also, if you haven't already get $1 off Wendy's any menu item (sent after signup)