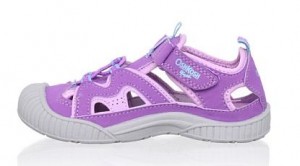 MyHabit has a REALLY great sale on Osh Kosh Sandals for Kids happening right now!  I was just able to score my little one some  for only $9 – $12 shipped!  That's really a great deal from Amazon's MyHabit sale = FREE Standard Shipping on ALL orders!
You will head over to MyHabit and create an account if you do not already have one.  Then go to Children – Osh Kosh Shoes.  It worked best for me to sort by size after I was in the sale so I could see what was available in my daughter's size.  Then you will add to your cart (hurry, they will only hold them for 10 minutes for you) and check out. 
Did you know you can use Amazon Gift Cards to pay for your order as well!?  Awesome! You should be earning AGC for FREE with Swagbucks already – so now's the time to score some shoes for FREE!
Now if you refer your friends to MyHabit you will receive a $20 credit after their first purchase!