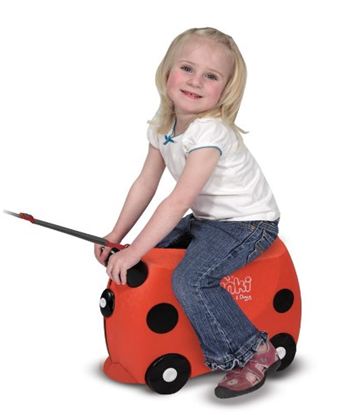 Melissa & Doug Trunki 40% off at Amazon.com
I'm SO excited to see this Melissa & Doug item go on sale! I'm going to order one for my daughter for Christmas with some of the Amazon Gift cards I'd earned from Swagbucks! I can't wait to get it!  This cute little suitcase turns into a riding device for young ones when traveling!  SWEET!  The last thing I want to be doing in the airport is waiting on a child to hurry along (insert mental image of Home Alone here) while I'm carrying luggage.  This AWESOME item from the reputable Melissa & Doug line kills two birds with one stone!
I'm so happy about this deal.
Depending on the color you choose : Orange, Blue, Green, Pink or Red (ladybug style above) will depend on the amount left at this BARGAIN price!  So hurry over to Amazon.com and see for yourself what a great deal this is!
This deal qualifies for FREE Super Save Shipping with a total purchase of $25 or more.  So you could add something SMALL to help it over the $25 mark and still get a GREAT SAVINGS!
Do you love Melissa & Doug? 
I do and so do my kids!  You can visit the Melissa and Doug Blog for a chance to win a GIANT Giraffe Plush; they will be picking a winner TODAY AT 3PM!
So enter the giveaway now! I'd love for an MLC winner to win!! 
and of course please let us all know if you do!