Have you not joined one of the BEST online Search programs that let's you get rewarded for what you're already doing yet, SEARCHING THE INTERNET?  Well, what are you waiting on??
Swagbucks let's you earn free stuff from just searching the web, with additional bonuses along the way to earn more BUCKS online to be traded for really cool stuff! ALL 100% FREE.
Earning SwagBucks could not be easier – here are my tips on getting the most bucks from your daily routine:
Install the Swagbucks Toolbar and use it for EVERY search (even if you already know the URL type it in the search field because you win bucks off randomly searching the web)
Take the "Daily Poll" Under the "Earn" tab from swagbucks.com vote and you'll earn 1-2 SB. (once daily)
NOSO (No Obligation Special Offers) – Under "Earn" tab from swagbucks.com I skip every offer and it still awards you 1SB. (once daily)
Trusted surveys – under "earn" tab from swagbucks.com Just for clicking this link I've earned 1SB daily.   Taking surveys from their partners can earn you varying amounts of swagbucks each once you qualify.
Search the web!  Not every search is a winner – but I will search random things until I get some kind of bucks.

Friday's are MEGA SWAGBUCKS DAY where you can earn double, triple and up to 1,000 PER SEARCH!

REFERRALS. For every person you sign up you can earn up to 1,000 SB per their searches.  When you win, I win.  If you get 7SB for searching the web… So do I.  Up to 1,000 SB. Cool!
Coupons on Swagbucks.  Using this feature allows you to print coupons which can be redeemed anywhere like other coupons, but you earn 10 SB for every coupon redeemed!
Plus there's many many more ways to win.  Randomly Swagbucks will issue codes that can be entered into the "Gimme Box" on Swagbucks.com home page.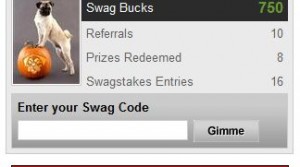 Codes can no be shared "directly" with others but giving hints at live codes are always encouraged.  You can find hints through my Swagbucks Widget on the right side of this page by "Check for Swagcodes" and by using the Swagbucks Facebook Page as well as following them on Twitter.
While you are using your social network to find Swagbucks, go ahead and Follow Must Love Coupons on Twitter and Facebook as well~!