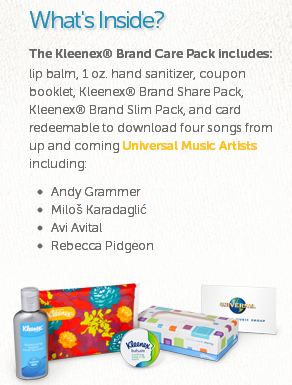 There is a great freebie from Kleenex right now. With cold and flu season, you can send a free share the care package to a friend! Here's how.
1. Buy Kleenex with participating codes.
2. Head to Kleenex Share the Care, and enter your code
3. Send the Share the Care kit to a friend. This kit includes:
Lip Balm
1 oz. santizer
coupons
Kleenex Slim Pack and Share pack, and
a card good for four up and coming artist songs
This kit will definitely help make a friend feel better. You never know. If you send one, they just send one back!