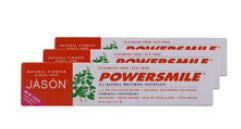 Here's another AWESOME deal from Vitacost!  You'll receive a FREE 3 Pack of Jason's Toothpaste and FREE shipping!  Nothing harder than that- which means you'll have to move QUICK before they are sold out.  (Since it's 100% free, everyone will be trying to snag this… so HURRY!)
Step 1:
Join Vitacost and you'll get a $10 FREE Credit sent to you via email.
Step 2:
Join Ebates and you'll get 2 things.
1) 4% Cash back on your Vitacost Purchase
2) a $10 Gift Card if you use Ebates within 30 days and make a $25 purchase at one of THOUSANDS of retailers.
Go through your new Ebates account and search for Vitacost. When it comes up click "Shop Now"
On the Vitacost home page search for "Jason's Jason PowerSmile All-Natural Whitening Toothpaste Bundle — 6 oz Each / Pack of 3″

Add this item to your cart for $10. With this item (pictured below) you'll get FREE shipping on your entire order!
Search for FREE Samples and add 2 to your account to get those as well!
Apply your $10 Vitacost Credit Voucher # and you'll get this SHIPPED FOR FREE!
OH! And since you've used Ebates… you'll be getting 4% Cash Back added to your BIG FAT CHECK on the full price of your order BEFORE your $10 credit is applied! Sweet! This is like getting items for FREE and making MONEY!