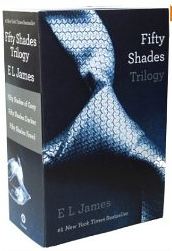 Currently on Amazon they have the Fifty Shades of Grey Trilogy marked down by 40%.  These paperback books also will be delivered with FREE shipping.  The 3 books are listed for only $28.71 right now, marked down from $47.85.  You will score free super saver shipping with this order (or free 2-day with Amazon Prime)
Clearly these books are something to talk about as they have been at the top of the New York Times Best Seller List for over 2 months!  If you've been missing out on all the drama and romance (plus very EXPLICIT language) of Christian and Ana – I'd recommend you start reading this today!
Save 40% on the Fifty Shades Trilogy
Please Note:  The prices on Amazon can quickly change or become obsolete, make sure that when you are checking out the price of the item matches what you were intending to pay before you checkout!
Don't want to read?  Get the FREE Fifty Shades of Grey Audiobook!