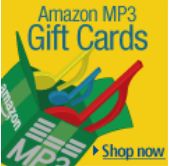 Get another FREE $2 MP3 Credit at Amazon for any song, music or album download that they offer!  This offer has been extended through July 23, 2012 at 11:59pm PST.
Head over to enter your code at Amazon MP3 Redemption.  If it does not automatically credit the code to your account you can enter: HEARTMP3.
The next time you check out (before 7/23/12) it will deduct $2 from your Amazon MP3 purchases.
Don't miss the 25¢ Summer Jams downloads that you'll be able to score FOR FREE!
Thanks A Frugal Chick!