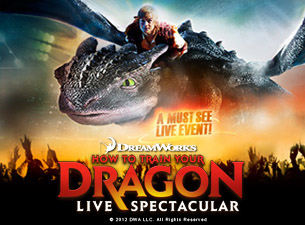 Dreamworks' HOW TO TRAIN YOUR DRAGON LIVE SPECTACULAR is soaring into Washington, DC in a few weeks at the Verizon Center and I can not be more excited!  After taking tour in Australia & New Zealand they are bringing 23 dragons, Viking Warriors and world class circus artists and  acrobats across Northern America this summer!  My kids loved the Academy Award Nominated Film, How To Train Your Dragon, so we are completely ecstatic for this LIVE show to come to DC.
The live production rolls fire-breathing action, epic adventure and heartfelt laughter into an original captivating story set in the mythical world of Vikings and wild dragons. Based on the book by Cressida Cowell, it centers on Hiccup, a Viking teenager who doesn't fit in with his tribe's longstanding tradition of heroic dragon slayers. Hiccup's world is turned upside down when he encounters a dragon that challenges him and his fellow Vikings to see the world from an entirely different point of view. The story presents a vision so grand in scale that only DreamWorks Animation and Global Creatures could bring How to Train Your Dragon to life in front of a live audience.
When attending HOW TO TRAIN YOUR DRAGON LIVE SPECTACULAR you will be showcased with 23 dragons (12 different species being represented), some with the wing span of 46 feet!  Taking the sky with groundbreaking technology, dragons will be flying on a flight track system (using a barcode scan strips so they and the crew know where they are at all times) to soar overhead, barely contained in the large arenas!
 HOW TO TRAIN YOUR DRAGON LIVE SPECTACULAR breaks every rule of theatrical entertainment to fully immerse audiences into the show in ways that have not been attempted before. Barely contained within the arena, HOW TO TRAIN YOUR DRAGON LIVE SPECTACULAR utilizes the full venue, maximizing every dimension of the performance space to transport audiences into a mythical world of fire-breathing dragons who soar overhead at great speeds. The state-of-the-art animatronic technology and large-scale cinematic projections interact seamlessly with the live actors, who bring DreamWorks Animation's heart-warming story to life through theatrical storytelling, martial arts and acrobatics. It's not to be missed!
Toothless will be flying over 1.2 miles throughout the show, weighing in at 7,500 pounds!  Can you imagine?  That's like a Range Rover flying around the arena!  Here's a video clip of the show with what you can expect:
If you are located in the Washington, DC area you can head over to purchase tickets for the showing of HOW TO TRAIN YOUR DRAGON LIVE SPECTACULAR at the Verizon Center (Show dates: 07/19/12 – 07/22/12).  Be sure to use the coupon code: MOM to save 25% on the weekday performances (including Friday night!).  You can enter this into the "promo code" or "Mommy Blog Promo Code" box when placing your order. All tickets for the show can be purchased here.
There are a limited number of premium seats, special VIP ticket experiences and family packages! You can see what packages are offered in the VIP Experiences here.  It's in these exclusive areas that you can "meet" the dragons, go back stage, get premium seating as well as much, much more.  
Here's the schedule of the upcoming shows at the Verizon Center:
Location: Verizon Center, Washington, DC
July 19 – 22, 2012
Pricing: $29.50 – $69.50 tickets (excluding fees), VIP Packages Available (highly recommended!)
Use Coupon Code: MOM to save 25% on the weekday showings including Friday night
Showtime: Thursday July 19: 7PM Opening Night – Enter to WIN tickets below!
Showtime: Friday July 20: 1PM, 7PM
Showtime: Saturday July 21: 11AM, 3PM, 7PM
Showtime: Sunday July 22: 12PM, 4PM
 Want to WIN a 4 Pack of Tickets to the Washington, DC opening night show?
Use the form below to enter to win a 4 pack of tickets to the opening night show on 07/19/12 at 7pm EST at the Verizon Center in Washington, DC.
Due to the time constraints on the upcoming showing, this giveaway will be ending July 11 at 9pm EST
The winner will be contacted shortly after via email.
The winner must confirm by 10am EST on 07/12/12 or another random winner will be selected
If you are not located in the Washington DC area but are interested in going to one of the many other shows across North America be sure to check here for the listing!  Some tickets are not yet on sale but will be available as the time gets closer to the show date.  Go ahead, check the tour schedule to see if they are coming to a city near you!  Don't forget to use the coupon code: MOM when checking out to save 25%, it works in all areas!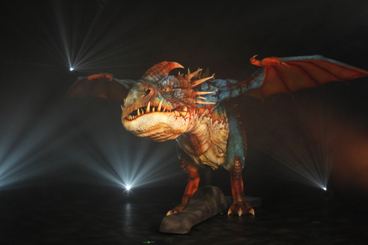 Disclosure: I have been compensated for this post from Dreamworks' with the tickets to provide for my readers as well as tickets for my family for offering this post on Must Love Coupons. See a full site disclosure policy here.