Organize!
The BEST couponing advice I can give you is for YOU to set up a system that works for YOU! 
I will provide some options that may help but – only you can determine what works for your methods of shopping!
Don't let your coupons go to waste because of a messy system, or NO system at all!
Option #1 The Binder:
I use the binder method for organizing my coupons because I feel it saves me the most time while shopping.  The way the system works you will need a few items to get started!  Once you get the basics though it will save you a lot of time. You can file all your coupons and even apply the same system to your work papers, print-outs, or household bills. Never underestimate the power of the binder!
1) A 3 ring binder.  Size depending on how many coupons you are going to be carrying into the store.  I use a 5″ this is the biggest I can carry with two kids in tow.
2) Some baseball card insert sheets / photo dividers / sheet protectors.  You can find these at most stores within the baseball card section, or in the photo aisle or office supplies.  Depending on what you are using will be where you find them and the price you pay. I use all three in mine for different purposes.
3) Dividers. These can be anything from the ones used in school that you write on the tab and slide it in the clear plastic piece to the fancier ones that you can print from your computer. (When using the baseball card inserts you may need to purchase the ones that are called extended dividers – this will allow your dividers to stick out farther than the baseball card insert sheets …. but if you're like me you use what you have and eventually you will know what order your binder is in and it won't matter if you can see them quickly)
So you set up your binder with the dividers and inserts by departments of shopping.  I've listed some of the department dividers that I use.  The list can be as complex or simple as you want it (depending on the number of dividers you have!) Mine is thoroughly complex.  I have approximately 50 dividers listed by department / aisle of the store and then some.
Divider Categories
Refrigerated Goods
Dairy / Cheese
Frozen Foods (Vegetables / Pizza / Appetizers / Meals / Breads / Ice Cream)
Raw Meats
Drinks / Juices / Coffee
Snacks (Fruit Snacks / Cookies / Crackers / Chips / Salty)
Cereal & Dry Breakfast Goods
Candy
Baking / Spices / Oils
Dressings / Condiments
Side Dishes
Boxed Meals
Pasta / Sauces
Canned Goods (Soups / Meats / Vegetables / Fruits)
Paper Product / Ziploc & Wraps / Trash bags
Laundry & Dish Soaps
Household Products
Personal Care Products (Beauty / Hair / Feminine / Razors / Deodorants / Lotions / Soaps)
Oral Care
Medicine
When you have your dividers in the binder, then you will need to start putting your coupons into the baseball card inserts.  This is where cutting on the lines and trying to be as close to fitting them in as possible helps!  Not all coupons fit in the baseball card inserts, mostly ones you print online – these will need to be trimmed tightly and folded.  When you fold coupons and are organizing them, try to fit them in as nicely as possible so that you can see what the coupon is for and how much off it is show on the front.  If the EXP date will not show on the front, make sure that you can see it from the back or removing expired coupons from the binder will be a pain.
I will only put "like" coupons in the same slot.  If I have multiples of the same with different exp dates I will put the ones that expire first to the front.  If I have the same coupons with different values off, I will put the highest value coupon in the front.  That way, when I am shopping I am getting the BEST deal right away and saving coupons that can be used later, for exactly that.
I will use the insert sheet for all the items that need to be in that department of the store.  A lot of the time I will have more coupons for that department than what I can fit on one sheet, therefore a second sheet is created. I try to match the like coupons for the same brands together in the rows so it's easier when siting the item on the shelf to find the coupons that may apply against it.
If coupons don't fit into the baseball card inserts that's where having 4×6″ inserts for photographs come in handy, having these will fit coupons that are sent via mail or larger ones can be easily slotted.  If you need an even bigger area you can use an 8×11″ page protector.
Here's a picture on of my sheets so you can see how I place them: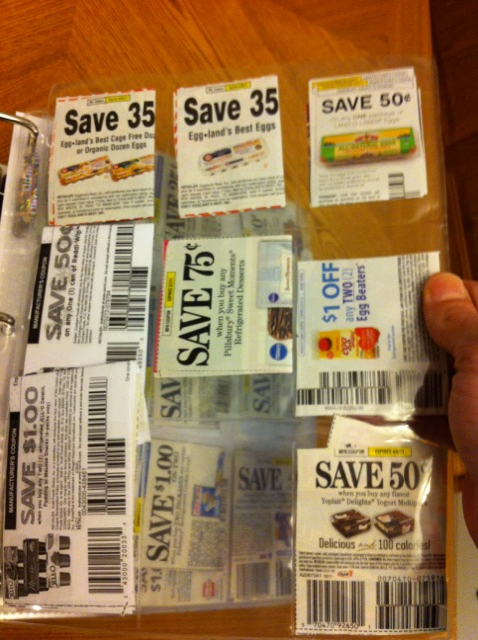 Once you have all your binder completed you'll be able to find coupons QUICKLY and EASILY based on your own style of sorting!
Here's my completed binder: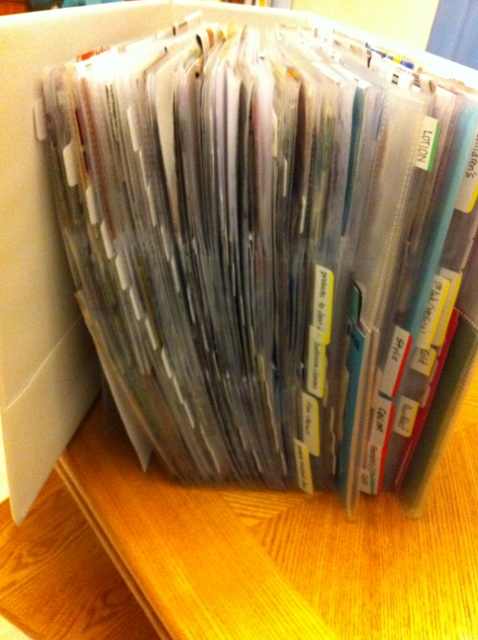 Option #2 Storing the uncut inserts:
Another way of organizing your coupons would be by the complete insert that you receive in the Sunday Paper.  This is the easiest method when you are using the Coupon Database to show for exactly what's on your list and knowing what coupons you will need before going into the store.  You can store all inserts into a Divided File cabinet or into a binder as well using full page protectors.
Keep inserts in date order. (Example: Smart Source 1/20, 1/28, 2/6, 2/13 then Red Plum 1/20, 2/6 etc.)

Keep a separate section for EACH week that you have an insert.
You can also arrange by week issued, while keeping all SS, RP, GM inserts in the same slot.

Mark each folder/page with what date the insert came out in the paper.
You can keep notes on the insert of what coupons have already been cut.
I used this way when I first started couponing because I was just learning the system and going directly into the insert needed and cutting coupons was the easiest way for me to get in and get out.  It became a little more difficult as I learned to coupon on my own because I was shopping and seeing the items in the store I couldn't remember what insert they were in without getting out my phone to search the coupon database and then cutting it out of the insert while in line.
I believe that this method is a hit or miss for a lot of people.  If you are extremely careful when shopping and not ever straying away from your list it will work for you! I would advise using this until you get the binder organized.
Option #3 Sorting Coupons by Department:
A lot of couponers will cut the coupons from the inserts and then place them in a coupon filer by department.  All "like" coupons for that aisle/department are placed into a compartment and then sorted while in the store (and department accordingly).  This is one of the easiest and simplest methods for couponers.  I have used this method and it also works!
 I found that when I am shopping with my kids in tow this method took the longest to sift through the cut coupons because I would have a pile for the "canned goods" and I was looking for one in particular. This option can also become messy if you drop a pile because all the coupons are loose and in hand.
What works for you? Please let us know in the comments section!