Office Max Coupon for 20% off - Get a Kindle Paperwhite for just $95!
It's incredibly rare to find the most recent generation of Kindle for less than retail. Fortunately, through 1/11/2014, you can use this 20% off almost everything coupon to snag a Kindle Paperwhite for 20% off. Some stores may even have an additional promotion that includes a $10 gift card with purchase. However, this varies by location.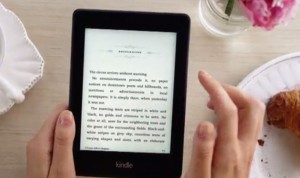 You cannot order the Kindle Paperwhite online. You need to go in-store at OfficeMax and purchase it from there, or they can order it for you and have it shipped to your home if it's out-of-stock at your store. Just print and present this coupon to the cashier for 20% off. It will be $95.20 + taxes for the regularly $119 Paperwhite with advertisements. 
Go to OfficeMax now to get the Kindle Paperwhite for the lowest price you'll be able to find it! It's a great eReader now at an awesome price!