Family Video Deal - Digital Movies for Less than $5
If you're ever looking for a fast and fun entertainment option for an evening, look no further than Family Video's collection of UltraViolet codes for sale. Right now, many titles are for sale for under $5.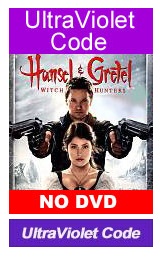 The UltraViolet Code for Hansel & Gretel: Witch Hunters is only $4, and will be emailed to you within one day after your order has been completed.
UltraViolet is great because you can access your digital titles from any device with access, and you don't have to use your precious storage to keep large high definition movie files. You will never lose the movies either, and can access them whenever you want!
Check out Family Video's UltraViolet titles and get a great deal on a movie that you don't have to wait for in the mail, or run to the store to pick up.