Benefiber 3-Pack Money Maker at Walmart with Coupon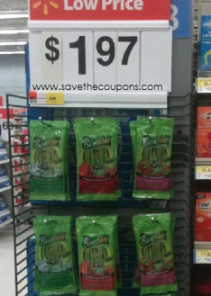 photo credit: Save The Coupons
There's another *HOT* Money Maker on products at Walmart that you should add to your list! Get a 3-Pack of Benefiber Singles and make some cash by using coupons! These can be found near the Pharmacy / Health section of the store and most likely on an end-cap.
Benefiber 3pks. (Singles) $1.97 ea. at Walmart
-Use $3/1 Any Benefiber Sticks Pack Coupon (Printable) $1.03 Money Maker, or
-Use $2/1 Any Benefiber Product Coupon (Printable) $.03 Money Maker, or
-$5/2 Benefiber Product, exp 02/25/12 (SS 01/08/12) $1.06 Money Maker
This is a great deal and a perfect example of how to use your overage on other items in your cart or get cash back at Walmart!
Thanks to Save The Coupons for the deal & Picture!