All You Magazine Subscription only $.38 per Issue after Cash Back!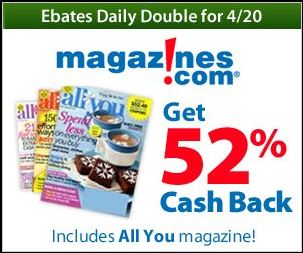 Today only on Ebates you're going to be able to score a HUGE 52% Cash Back from Ebates!  Included in that deal is Magazines.com and our favorite All You Magazine!  This is going to let you score each issue for only $.68 / issue or LESS!  That's well over 70% less than the cover price!  When you are a NEW Ebates Member and make the 2-Year Subscription you'll get it for as low as $.26 / issue! WOW - that's 90% off the cover price!
Here's how to get the BEST deal:
*You will be given the option to get a FREE $10 Gift Card or $5 Credit to Ebates when joining
(Store for Gift Card: Home Depot, Target, Barnes & Noble or Magazines.com)
*Gift Card awarded after $25 purchase has been made through Ebates
Search for Magazines.com in the stores : Select "Shop Now"
At Magazines.com - Search for All You Magazine
*You will be given 2 options for this deal 12 months or 24 months.
| | |
| --- | --- |
| 1 Year Subscription (12 issues) | 2 Year Subscription (24 issues) |
| $19.95 Normal Price | $39.84 Normal Price |
| 52% Cash Back = -$10.38 | 52% Cash Back = -$20.72 |
|  Final Price= $9.57 or $.80/issue |   Final Price= $19.12 or $.80/issue |
|  $5.03 more needed for $10 Gift Card |   *NEW MEMBER $10 Gift Card Bonus* |
|    |    Final Price= $9.12 or $.38/issue |
If you haven't already subscribed to All You Magazine, a deal like this is hard to pass up as the magazine is only sold at Walmart and is $2.49 / issue or through an online subscription and the cheapest I've seen it run is at $1/ issue.  When you have a subscription you'll get your magazine a week or two earlier than Walmart releasing it.  (And you can always get more than one subscription for your home! Hint: Kids, Husband, etc. ;))
We've already listed what coupons you can expect in the May 2012 issue - so check out the coupons here >> May 2012 All You Coupons