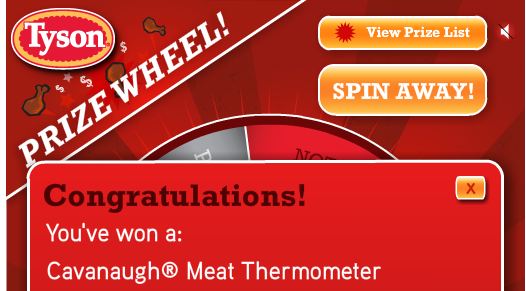 Have you heard of the Club Tyson Prize Wheel on Facebook?  Try your luck at spinning the prize wheel and seeing what you get!  You get one FREE Spin on the house, and then can EARN more by Completing various tasks such as: sharing with friends, playing a game of Winger, submitting a recipe, and MORE!  You have a chance to win up to 6 prizes!  Prizes must be claimed within 15 minutes and they are mailed out every 15 days!  So try your luck!
They are giving away prizes – I just played once and won the Cavanaugh Meat Thermometer — shared with a friend, got to spin again and won a BBQ Lighter!
Here's a list of some of the prizes you have a chance to win:
Weber Grills, $25 Sam's Gift Cards, Thermometer, Aprons, Brushes, Timers, an MORE!  These are ALL great and JUST in time for Grilling Season!
You can also check out the BBQ Tour coming to Washington, DC ::
June 25th & 26th
Safeway National Capital Barbecue Battle
Washington, DC, 20599