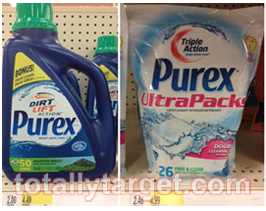 If you're looking for an awesome deal on laundry detergent this week, well here's one to get your week started cheap! First, head on over to Coupons.com to print this awesome new high value $1.50/2 any Purex liquid or UltraPacks detergents coupon! Then, make sure to head on over to the Target coupon site to snag the $3/3 Purex detergent or crystals Target store coupon. You can then take these coupons with you over to your local Target and pay as low as $10.47 for 3 bottles, or only $0.07 per load when you purchase the Purex Dirt Lift Action Detergent (50 loads!) Even if you don't want to take advantage of this offer yet, you can still keep the Purex coupons for a rainy day. These are usually on sale at Drug stores as well!
Here's the deal:
Buy (3) Purex Dirt Lift Action, 50 loads – $4.99 each
Use (1) $3/3 Purex detergent or crystals Target store coupon
and use (1) $1.50/2 Purex or UltraPacks Detergents coupon
Final Price = only $10.47 for all 3 bottles, just $3.49 per bottle, only $0.07 per load!
Remember, you can print two coupons per computer. Since this is a high value coupon, I'm sure this coupon will go fast so make sure to print these today before they run out!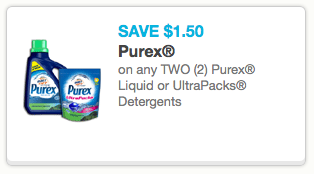 Thanks and Photo credit: Totally Target!