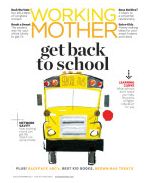 Right now you get can 6 FREE issues to Working Mother Magazine. This is a great resource for working moms. Whether you work from home or in an office, they have great tips on how to balance your family, relationships, and work.
Head over to Mercury Magazines to get this subscription.  You will enter your information and can opt "out" of all other free magazine offers, just continue to skip to the Working Mother Magazine Freebie to receive it.  This really works, and I've got a mailbox full of magazines to prove it! 
You first print subscription will arrive in 6-8 weeks!  I personally love this magazine since I'm a working (outside the home) mom!
This is a limited time offer, so make sure to grab your Working Mother magazine for FREE right here.